Prices start from £11,995  for a small "Ascot" or "Wentworth" room fully installed without a base. Our garden rooms can be bespoke designed or pre designs that can be adapted to your needs. 
Composite Wood Garden Room Price List
Look at what is included with your summer house, garden office, or garden room, and see how affordable they can be!
*Prices for room build only – many optional extras available!
GARDEN ROOMS CASE STUDIES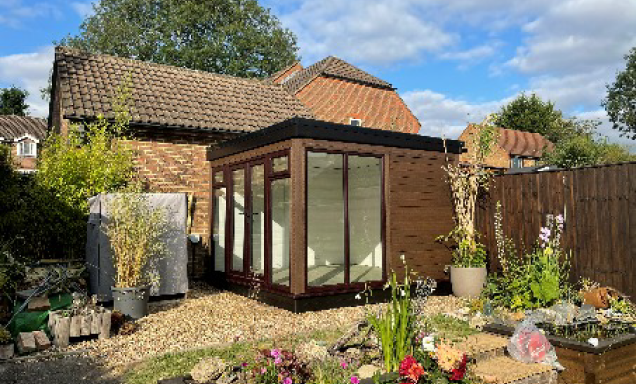 Walnut composite wood garden room and rosewood frames : 3320 x 3320
The clients brief was to replace the pergola and build them a small summer house in the far corner of the garden so they could enjoy the evening sun all year round. The top of the garden was laid with shingle, and we installed ground screws and built a base to support the room. We carried out our installation in 3 days and left them with a sunny summer house fully wired and connected to existing supply.
"We love our space !"
Thanks again, D&L
Dark grey composite wood with Bi-Fold doors : 4870 x 3320
Our client was self employed, and rented a office, she wanted to reduce her company overheads, and start working from home, in the garden. We designed a light and airy "Ascot" room, with full width glass on the front, including a set of bi-folding doors. The original patio area was covered with our new room, and extended forward with a small deck area. Using our ground screws we drilled through the patio, thus no need to lift and remove, a great saving to the client. This room was fitted with wall heater, external lights, and a fully wired alarm system for additional security.
"Hi David,
All paid, Thanks for all your hard work on this
Kind regards, M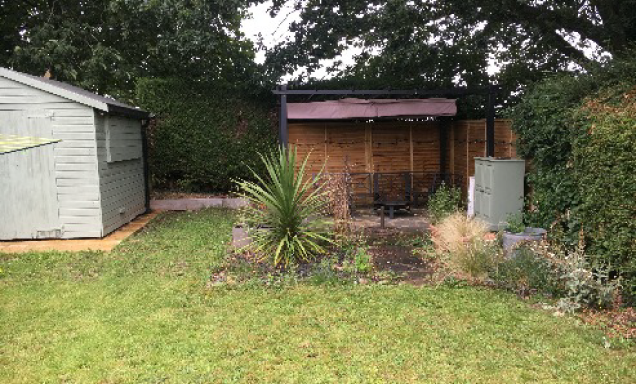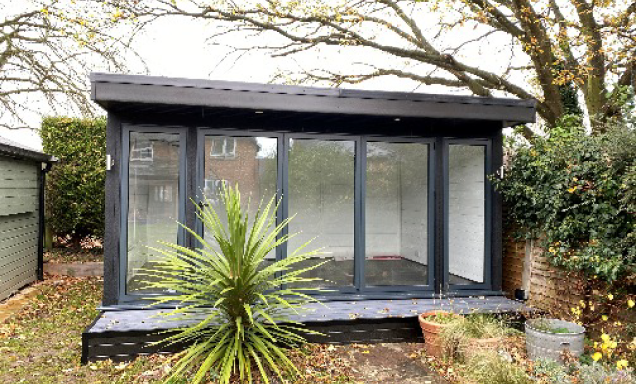 Dark grey composite wood : 3320 x 6400
This young couple had just moved into their house, and had adopted an old shed on a large concrete base. As our client was a keen "DIYer" we agreed to build the room on a prepared base, so they demolished the shed, and levelled the base ready for us to install the composite wood garden room. The design was different to most as the doors faced the rear of the garden, overlooking the valley. After the room was completed our client was then going to lay some decking to the front and side.
"Hi David,
The balance has been transferred. A big thank you to you and the team,."
Regards E.
Dark grey composite wood with store room : 4000 x 4870
The clients brief was to demolish the two old sheds at the end of the garden and create a new store room and garden chill zone. We got to work demolishing the sheds, and utilised the existing concrete base to form part of the base for the new composite garden room. We gave the client a full turn key service, which included full removal and disposal of old sheds, supply and build of the new room, full wiring inside the room, including wall heater and wi-fi access point and connection of existing armoured cable to the new room. The room was finished off with a laminated floor and skirting boards.
"Very happy with the service and final product, delighted with the space that has been created! I would highly recommend Garden Rooms Online to anyone I know."
Thanks again, N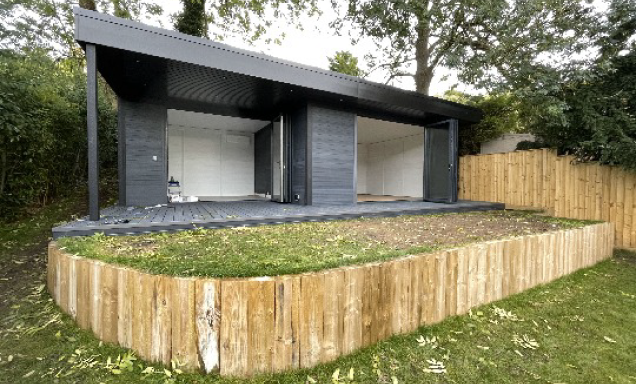 Custom Dark grey composite wood garden room with Bi-Fold doors : 10mts x 5mts
Our brief for this client was to build a large room for use as a gym, but to also build a garden room to rest and relax in. After a few design options they opted for this split room design, a large 6m x 5m gym on the right, and a smaller 4m x 4m chill zone with overhanging roof and composite deck on the left. Both rooms have Bi-Fold doors to allow full enjoyment of our summers.
"We have in our garden so much more than simply a couple of garden rooms. We have a full on top drawer space that the family can use. In summary we couldn't have wished for a better outcome.
Thanks so much R&J
Call us for further information on any of our products and services
What do you need to know?