You can design your own summer house, garden room or garden office using our designer – or choose a pre-designed one!
Composite Garden Room Design
We supply and install composite wood summer houses, garden rooms and garden offices manufactured from a mixture of resin and recycled timber, which are totally maintenance free, so they never need painting or staining inside or out. Our summer houses can be designed to your exact needs using the button below, or choose one of our pre-designed rooms.
The "Oakland" Garden Room
Is one of our basic designs on our online designer package and a great place to start building your garden room, your way. With simple designs, the Oakland can be transformed into all the room designs below. Oakland rooms fully installed, including base and electrics start from £17,995 inc vat.
The "Ascot" Garden Room
Is one of the most popular summer houses we supply. A simple design with glass screens and doors across the front, plus an overhanging roof with LED lights.
The "Wentworth" Garden Room
Has two side panel walls plus a pair of french doors and side lights. It is similar to our basic "Oakland" summer house, except it has the overhanging roof and LED downlighters.
The "Marlow" Composite Wood Garden Room
This garden room comes as standard with a set of aluminium bi-folding doors at one end, and two tall narrow feature windows to the side. We include a full height frame and a half wall with opening window. The Marlow is a great garden office or party room,  ideal to use for entertaining friends and family, and comes as standard with an overhanging roof to the front and side, with LED downlighters.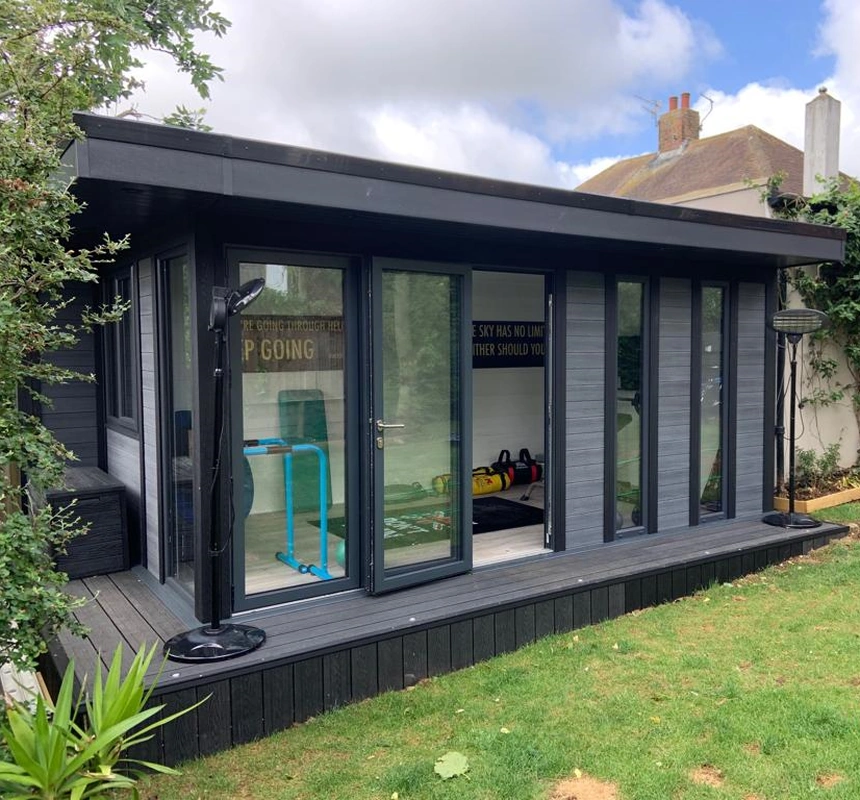 The "Henley" Composite Wood Garden Room
Comes as standard with a set of French doors and side lights on the front and side elevation, with options for aluminium bi-folding doors. The Henley summer house has a side overhang canopy to give you an external covered space, ideal for the hot tub or outdoor kitchen. The Henley is suited to the larger garden as they are between 6mtrs and 12mtrs wide. As standard they come with a solid wall to the rear of the overhang, but can include a side wall if required, or even no rear wall. Other options include glass sliding/stacking doors to close the area in.
The "Chalfont" Composite Wood Garden Room
Comes as standard with two sets of sliding patio doors in the corner with options for aluminium bi-folding doors. The chalfont summer house has a side and front overhang roof and downlighters. The chalfont is suited for the corner of a garden as it boasts views from the room in two directions. As standard they come with a composite deck area under the roof, which can be extended further if required.
The "Farnham" Garden Room
This summer house has a solid wall are to the left plus a pair of doors and fixed screens on the front, with the glass wrapping round the corner as well. An overhanging roof on the front with LED downlighters comes as standard.
Your garden room is a personal thing
-And we will build your room, your way. Why not try our on-line designer to create your perfect summer house. Start with a basic standard design (Ashland Fully glazed front or Oakland with front return walls) or start from scratch. Spin your room around and add windows, doors or bifolds to design your dream garden room or garden office.
Call us for further information on any of our products and services
Building a better room for your garden
Garden rooms, garden offices and summer houses are crafted to clients specification and size. Built from composite wood, like our decking they are totally maintenance free. They never need a lick of paint or a coat of stain.
Work – Garden Office
Enjoy walking down the garden to your own garden office, no traffic jams, no commuting costs, just relaxing views of your garden.
Rest – Relax in your Summer House
Our garden rooms are enjoyed by most of our clients to relax in the garden, giving them extra space to relax and spend time with friends and family
Play – in your garden room
Everyone loves a movie! Get the popcorn out, sit back and watch a film on the big screen. We designed this room to be used as a cinema room with large drop down screen and rear projector
What will you use your summer house for?
Contact us to get your own summer house or garden office.